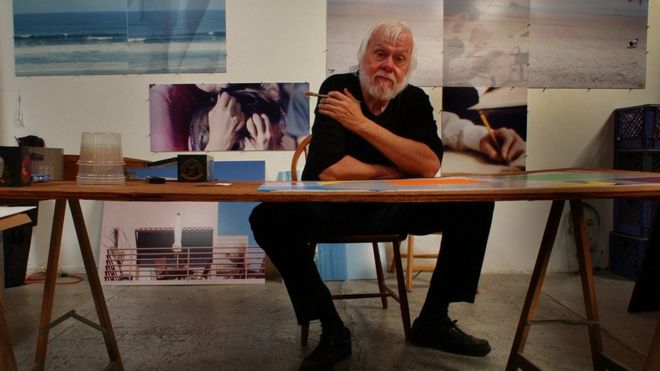 One day in 1970, the Californian artist John Baldessari looked back over the paintings he had done over a period of almost two decades.
And he decided to burn them all.
Baldessari had begun his career in the 1950s by sticking to tradition. He was in his twenties, and he was still figuring out who he was as an artist and, most importantly, who he wanted to be. The result was an inventory of relatively traditional semi-abstract paintings.
Rather than doing what most artists do and simply storing them away, he gathered them up, took them to a crematorium in nearby San Diego, and had the entire lot destroyed.
The ashes filled 10 large boxes - some of which were stored in a book-shaped urn, engraved with his name, which then lived on his bookshelf for the rest of his life. Baldessari combined some of the other ashes with cookie dough, and the resulting cookies were exhibited at New York's Museum of Modern Art (MoMA).
"To be creative you have to have destruction quite often too," Baldessari would tell an interviewer years later. "It's like the idea of a phoenix rising from the ashes."
In honor of the old artworks, he placed a death notice in a local newspaper.
Just a year later, he declared to the world: "I will not make any more boring art."
John Baldessari died on 2 January, aged 88, having kept that promise.
Baldessari was born on 17 June 1931 in National City, California, just a few miles from Tijuana on the Mexican border.
He studied art and art education in San Diego, and was almost immediately drawn to teaching - taking up teaching posts at a junior high school, a community college, and then University of California, San Diego. He even spent a summer teaching art to teenagers at a camp for juvenile offenders run by the local authority.
Baldessari had already begun experimenting with new art forms before the cremation in 1970 - including paintings that were text-based, or combined text and image.
For example, he printed an intentionally bad photograph on to a canvas, with nothing but the word "WRONG" written underneath it.
In another work, Tips For Artists Who Want to Sell, he painted his deadpan advice for creating commercially appealing artwork - including tips such as, "paintings with light colours sell more quickly than paintings with dark colours".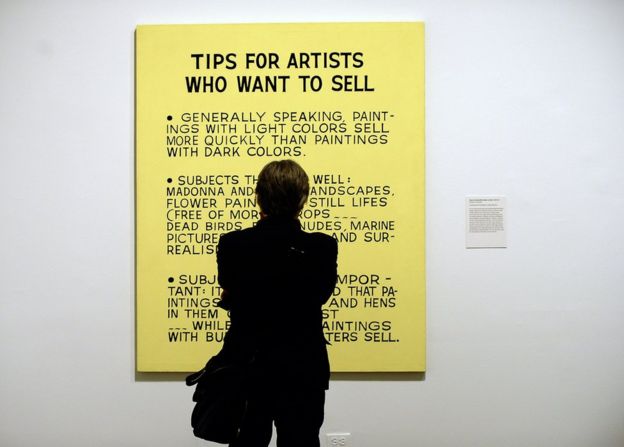 In summer 1970, after the cremation day, he began teaching a course at CalArts on "post-studio art" - that is, art beyond the studio.
As well as teaching, it was there that he started making experimental videos - including the now-famous short film of himself writing "I will not make any more boring art" over and over again on a ruled notebook.
But as conceptual art developed a reputation for being cerebral (that is, code for impenetrable), Baldessari injected humor into his work - sometimes by riffing off other conceptual artists, such as Sol LeWitt.

"The first thing you would say about John is that he was hilarious," curator Kate Fowle tells the BBC.
"He took his job as an artist very seriously - but he didn't take art seriously. He didn't take the art world seriously. He understood what it was, of course, but his joy was... well, he used to say to people, 'just go out and look at art - it doesn't matter if you don't like it, just go and look, something will resonate in the end'."
As well as being hilarious, she adds, he was tall. Very tall.
According to artist David Salle, one of Baldessari's friends and CalArts students in the 1970s, he was 6'7" - something that, for a long time, earned him "the distinction of being the tallest serious artist in the world".
In the 1980s, he began working with photo collages - in particular, old Hollywood movie stills and photographs from newspapers.