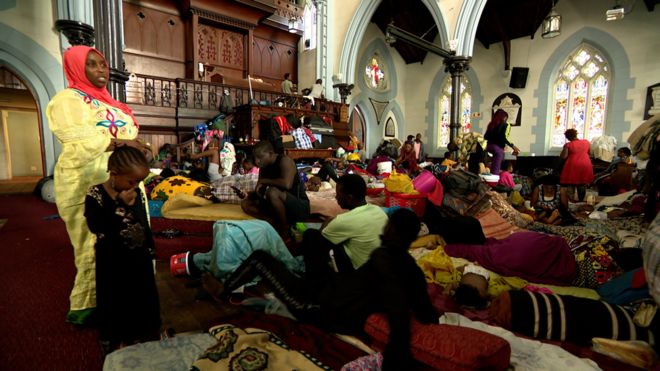 Hundreds of refugees and asylum seekers have been crammed into a church in the center of the South African city of Cape Town for four months. They are desperate to move to another country, as Vumani Mkhize reports.
The air is thick with the smell of too many people confined in one space.
Blankets, making up temporary beds, are strewn all over.
The cacophony of children's playful laughter rises above the scene, but it cannot mask the plight of the more than 500 refugees and asylum seekers who have sought refuge inside Cape Town's Central Methodist Church.
Last October this group, made up of people from across the continent, staged a sit-in protest outside the offices of the UN's refugee agency (UNHCR), demanding to be resettled outside South Africa.
Armed with an eviction order, police tried to forcibly remove them and images of stun grenades and weeping children desperately clinging to their mothers shocked the nation.
At the time the UNHCR said it had been "encouraging [the protesters] to participate in constructive dialogue to address their grievances".
"South Africa is a generous host country with progressive asylum policies and laws," it added.
In their time of need, the church offered the group sanctuary. They have remained there ever since.
Nadine Nkurukiye escaped unrest at home in Burundi and has been living in South Africa for 13 years, but has not been granted asylum.