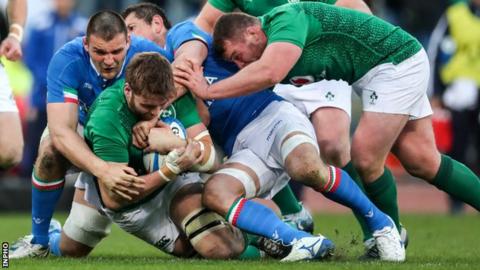 Ireland's men's and women's Six Nations games against Italy in Dublin on 7 and 8 March have been postponed because of coronavirus.
Irish Health Minister Simon Harris said on Tuesday the men's game should be postponed and met with the Irish Rugby Football Union (IRFU) on Wednesday.
Eleven towns in northern Italy are in lockdown after an outbreak.
An IRFU statement said it was "working with the Six Nations to try to reschedule all three fixtures".
Ireland's men were scheduled to face Italy at the Aviva Stadium on 7 March before the women's game the following day at Energia Park.
The under-20s game between the countries on 6 March has also been postponed.
Italy women's game against Scotland was also postponed on Sunday and is yet to be rescheduled, while England's men's and women's teams are due to play in Italy in the final round of the Six Nations on 14 and 15 March.
A Six Nations statement said organizers were "fully supportive" of the postponement and that all other matches are currently scheduled to go ahead as normal, but added: "We will continue to monitor the situation very closely with all unions and the respective government authorities and health organizations."
Tournament organizers will hold discussions with unions of all six teams about rescheduling options.
Following Harris' comments on Tuesday evening, the IRFU called for the minister to explain the "specific reasoning"' behind his words.
But an IRFU statement after Wednesday's meeting read: "At the outset, we made it clear that the IRFU was supportive of the government's need to protect public health in relation to the coronavirus.
"We were then advised, formally, that the National Public Health Emergency team has determined that the series of matches should not proceed, in the interests of Public Health. The IRFU is happy to comply with this instruction.
"Ticket holders are asked to retain their tickets for now. The IRFU will be providing ticket holders with tickets for the rescheduled games or a refund if they wish to receive one. Information on both these options will be released as soon as possible."
Ireland's chief medical officer said on Wednesday the decision to call for the postponement of the match in Dublin was "not made lightly".
Ireland's Grand Slam hopes were ended by England on Sunday and they are yet to face Italy and unbeaten France in the tournament.
Several other sports events have been canceled because of coronavirus, with skating, table tennis and football's Serie A the latest to be affected.
In 2001, Ireland's three Six Nations fixtures against the home nations were postponed until September and October because of the outbreak of foot-and-mouth disease.