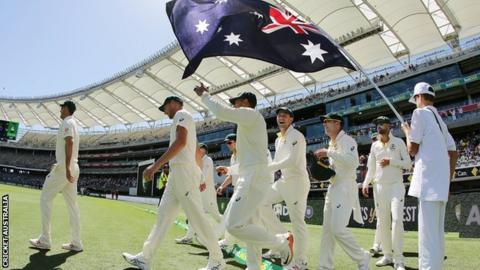 It begins with the biggest scandal ever to engulf Australian cricket and ends inside the victorious visiting dressing room in one of the most incredible English summers in recent memory.
'The Test', released on Amazon Prime Video on Thursday, gives unprecedented access to the men in baggy green caps as they sought to rebuild their reputation following the ball-tampering scandal.
From an English perspective, seeing Australian players' view of the World Cup win, Jofra Archer's duel with Steve Smith and Ben Stokes' Headingley heroics not only stirs fond memories, it also gives a rare peek behind enemy lines.
If you have an opinion on the likes of Smith, David Warner, captain Tim Paine or coach Justin Langer, then this eight-part documentary is unlikely to change your mind - it is often the cricketers as players rather than characters that is the focus.
And you will probably not relish the Australian Ashes celebrations that bookend the documentary. There are, though, some fascinating morsels to devour.