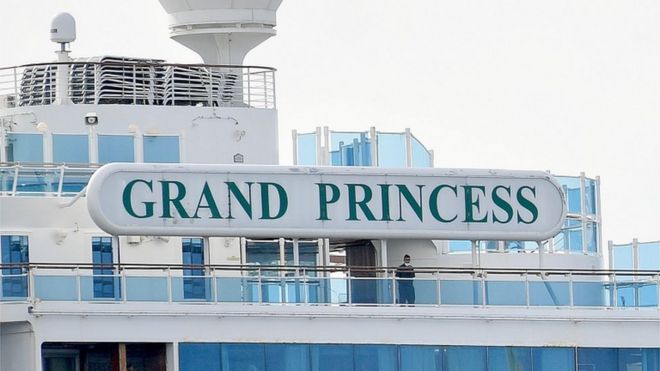 Passengers aboard a virus-hit cruise liner in California have begun disembarking after being kept off the coast of San Francisco for five days.
Nineteen crew members and two passengers on the Grand Princess have tested positive for Covid-19.
The vessel carrying 3,500 people from 54 countries, has docked in Oakland.
The US has reported more than 607 coronavirus cases and 24 deaths. President Donald Trump said it had "blindsided" the world.
Cases of the virus have been recorded in 34 states plus Washington DC.
Some US politicians - including Mr. Trump's newly appointed chief of staff Mark Meadows - are self-isolating after coming into contact with an individual who has tested positive.
The number of infections worldwide is more than 109,000, with about 3,800 deaths.
Italy now has the highest number of confirmed infections outside China, where the outbreak originated in December. It has confirmed 7,375 cases and overtaken South Korea, where the total number is 7,313.
Some 16 million people - a quarter of Italy's population - are under strict quarantine measures.