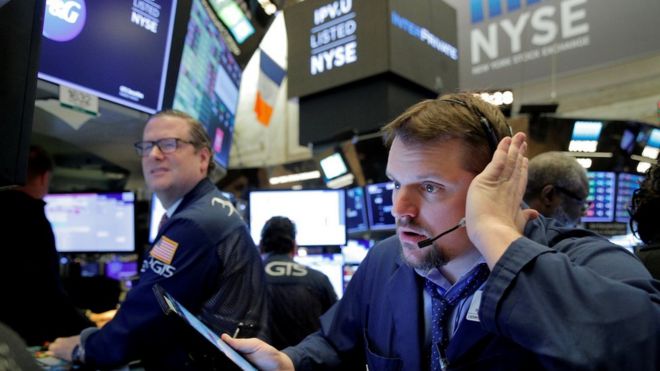 Shares around the world have plunged as investors fear the spread of the coronavirus will destroy economic growth with government action insufficient to arrest the decline.
The main UK index dropped more than 10% in its worst day since 1987.
In the US, the Dow and S&P 500 were also hit by their steepest daily falls since 1987.
The declines came despite actions by the Federal Reserve and European Central Bank to ease financial strains.
At the start of US trading, plummeting shares triggered an unusual automatic suspension in trading for the second time this week.
When trade resumed 15 minutes later, shares continued to fall, taking cues from the slide in European markets.
The S&P 500 fell 9.5% and the Nasdaq ended 9.4% lower, while losses on the UK's FTSE 100 wiped some £160.4bn off the market. In France and Germany, indexes cratered more than 12%.