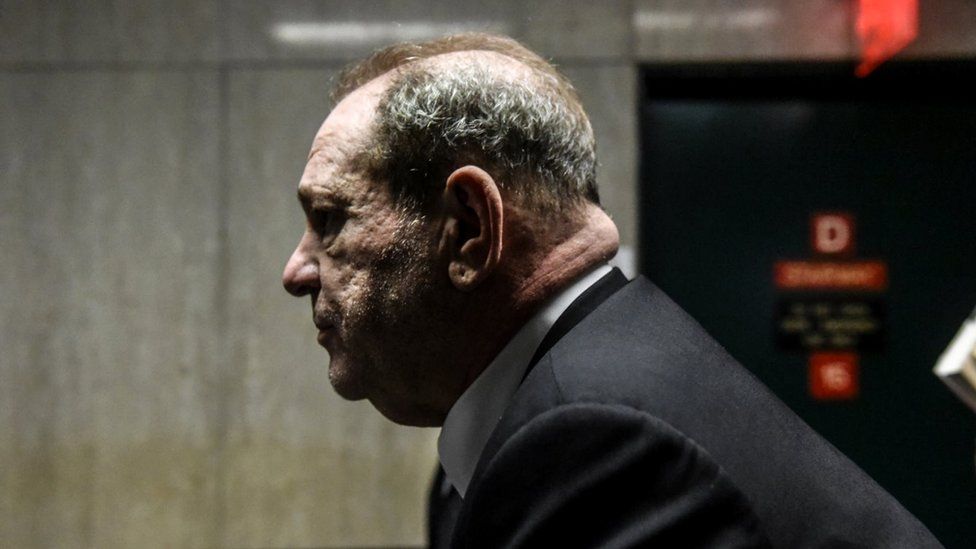 As jurors were sworn in for Harvey Weinstein's trial in New York, the judge told them in no uncertain terms that this case was not intended to be a referendum on the #MeToo movement as a whole. But the trial, which ended with him being convicted of rape and sexual assault, at times, felt like one.
Weinstein now faces a 23-year sentence which will probably see him spend the rest of his life behind bars. This is the story of the downfall of one of Hollywood's most powerful men.
You may find some of the details in this article upsetting
It was a watershed moment. More than two years after allegations started to emerge about the Hollywood producer, some of his victims finally had their chance to be heard in court.
Twelve jurors were tasked with ruling on sex charges, which Weinstein denied, in a trial that saw complex questions about consent and power dynamics on the stand. Jurors heard harrowing testimony from six women who, at times in tears, recounted their alleged assaults by the producer. At one point a woman, who he was later convicted of raping, had to leave court after suffering a panic attack in the witness box.
Weinstein's high-powered defence team tried to flip the narrative and paint his accusers as the manipulators in the situation: women who used Weinstein for his industry prowess and later regretted and mischaracterised their sexual encounters as non-consensual. During weeks of testimony, jurors heard everything from claims about Weinstein's genitals being deformed to nude photographs of the movie mogul himself.
Every day journalists lined up, often before sunrise, to claim a place on the press benches. Cameras were not allowed inside the Manhattan Supreme Court, but the entrance was always lined with paparazzi scrambling to get daily shots and sound-bites from Weinstein, who had barely been seen in public for two years.
Weinstein was a giant of the movie industry in every sense. Productions in his name became synonymous with success in Hollywood, with hundreds of Oscar nominations and 81 wins across his career. On stage, as he accepted awards, his large frame would often hulk over the stars of his films.
The image of Weinstein at his trial was a very different one: once reportedly 300lb (136kg), he appeared frail and shuffled into court most days with his back hunched over a metal walking frame.