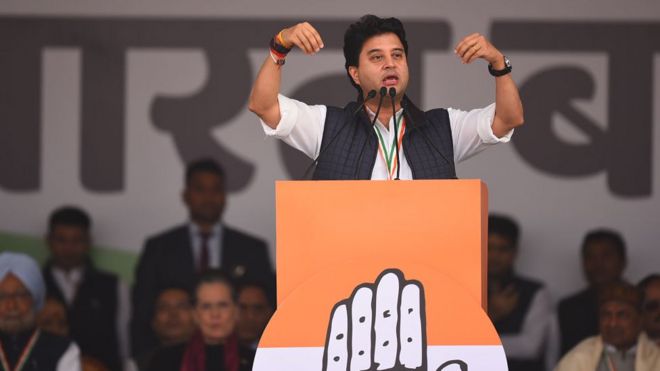 One of India's only states not ruled by the Bharatiya Janata Party (BJP) is likely to see its government toppled after a top Congress leader defected.
Jyotiraditya Scindia joined the BJP on Wednesday following a day of high drama in Madhya Pradesh, where the Congress party is in power.
"I'm excited to work under the leadership of PM Modi," he told reporters.
A number of Congress state legislators are believed to be supporting him.
What did he say?
Mr Scindia hit out at his former party saying it had lost direction and had betrayed the people of Madhya Pradesh.
Addressing a packed press conference at the BJP headquarters in Delhi, he told reporters, "the situation within the Congress is not the same as it was earlier. It is not the party that I joined. I am not able to fulfil my aim of working for the country."
He also thanked Prime Minister Narendra Modi and Home Minister Amit Shah for welcoming him into "their family".
He added that "India is secure under the leadership of PM Modi"
How did it all start?
The drama began on Monday when at least 17 Congress legislators said to be loyal to Mr Scindia resigned and went incommunicado.
The party says it tried to reach out to Mr Scindia but failed.
On Tuesday he left for Delhi where he met Mr Modi and Mr Shah. This fuelled speculation that he would join the BJP.
Shortly afterwards, Mr Scindia tweeted his resignation, prompting the Congress to expel him for "anti-party activities".
This led to speculations that the Congress government in the state was in danger of falling.
Since Mr Scindia's resignation, five more Congress legislators have resigned but the Speaker has not accepted any of the 22 resignations.
If they are accepted, Congress is expected to become a minority in the house, which would most likely see a BJP-backed government in power.
However, the Congress party still insists that it has the numbers.