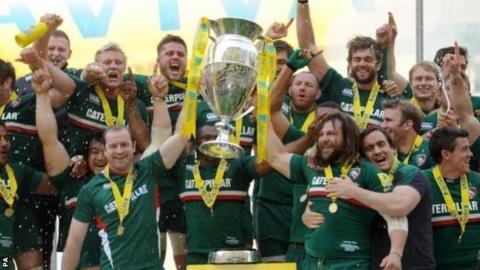 Fresh investment in Leicester Tigers will help ensure the club remains a force in the Premiership, according to club chief executive Simon Cohen.
Tigers, who have won 10 Premiership titles and two European Cups, have been put up for sale for about £60m.
Their last Premiership triumph, however, came in 2013 and they battled to avoid relegation last season.
"It's a very big club and extra investment means it will continue to be a very big club," Cohen said.
"This club is all about winning, and significant extra investment - if we can secure it - gives us a much better opportunity of winning.
"We are looking to be well placed as the game changes quickly. That might only require a minority stake, majority stake or all of it."
However, Cohen also told BBC East Midlands Today there was "no need" to sell.
"The main criterion is somebody - or some entity - who wants to take the club forward has to be somebody who understands what Leicester represents within the community and wants to enhance that," he said.
Zeus Capital has been appointed to help broker a deal after the East Midlands club was approached by several bidders soon after CVC bought a 27% stake in Premiership Rugby, worth more than £200m, in December.