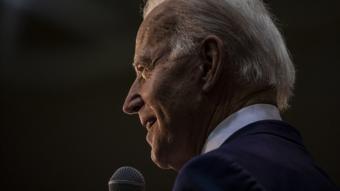 Voters across America are preparing to take part in the biggest day of the 2020 election so far.
More than a year after the first Democratic candidates joined the race to take on Donald Trump, we've now reached Super Tuesday.
Fourteen states will vote on which Democrat they want to run in November's election. Bernie Sanders is in the lead after the early contests.
By Wednesday, we could have a clearer picture of who the nominee will be.
What's happened so far?
Democrats across the US have been taking part in a series of caucuses (essentially party meetings, where you vote publicly at the end) or primaries (secret ballots) to pick their preferred candidate.
Bernie Sanders's success has come as a bit of a surprise. The Vermont senator lost out to Hillary Clinton in the 2016 race, but he isn't a typical Democrat by any means(in fact, he sits as an Independent in the Senate).
He's a staunch left-winger, so may struggle to convince the party's moderates if he becomes the candidate. He's also 78, and suffered a heart attack in the autumn. But he's proven extremely popular in the primaries so far across many age groups and ethnicities, and all the momentum is on his side.
The handful of moderate Democrats running have split the vote, so it's made it hard for any of them to break out (and this has helped Sanders build up a lead).
One of them, former vice-president and early favourite
Joe Biden
, underwhelmed before winning convincingly in South Carolina on Saturday.