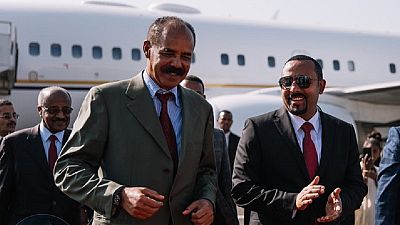 Prime Minister Abiy Ahmed along with visiting Eritrean President Isaias Afewerki inaugurated an irrigation project located in the Oromia regional state today.
The Batu Dugda irrigation project currently has a capacity of developing 2,000 hectares of land with a potential to develop 15,000 hectares upon the completion of its expansion works, state-run
FBC
reported.
Oromia president Shemelis Abdissa and former PM Hailemariam Dessalegn were also in attendance at the ceremony. The two leaders also visited a nursery site in Dugda woreda,
FBC
added.